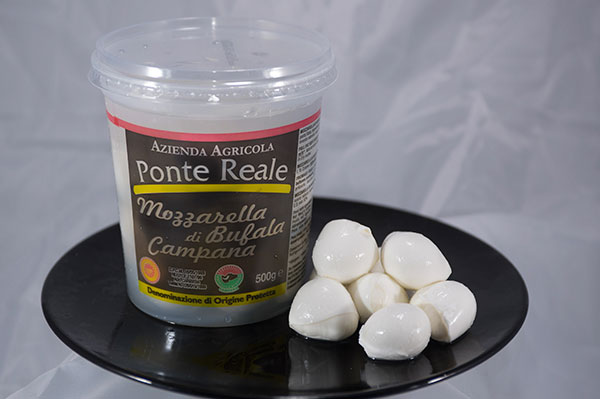 Perline Di Latte di Bufala Bicchiere 500g Nero
Ingredients: DOP Buffalo milk, Natural inoculum, Rennet, Salt
EC Label: IT 15/543 CE
T.M.C.: 25dd
Size: 5g
Conservation: +4° +8°
Fresh "pasta filata" cheese with milk from DOP area.
Nutritional use: In order to taste the typical milk flavor, we advise that you return the product to an ambient temperature (by soaking the package in tepid water for 15 to 20 minutes) before consumption.
Intended for: The entire population, including individuals at risk such as children and the elderly, with the exception of individuals who are allergic to lactose and/or milk proteins.
Characteristics
Physical
Moisture

61%+0-4%

Fats

-

PH

5.20

Salt

0.6%
Microbiological
Total coliforms

UFC/g < 1000

Escherichia coli

UFC/g < 10

Staphylococcus aureus

UFC/g < 10

Listeria monocytogenes

Absent
Nutritional
Proteins

16.0g

Carbohydrates

0.5g

Fats

20.5g

Energy Value

251 kj 1039
Weigth (kg)
Dimensions (cm)
EPAL Pallets
Net
Gross
Height
Width
Length
N. of pallets per layer
N. of layers
Tot. Packaging
Item Code
EAN Code
Cup Package
500
750
16
9
337
8027480000889
Box Containing 4 Pieces
2000
3000
170
258
258
12
7
84
337
8027480000889
Box Containintìg 6 Pieces
3000
4500
170
258
387
7
9
63
337
8027480000889
Certificates

| Monitoring body authorized by MiPAAF | Controlled Operator N° |
| --- | --- |
| IT BIO 003 | V 261 |